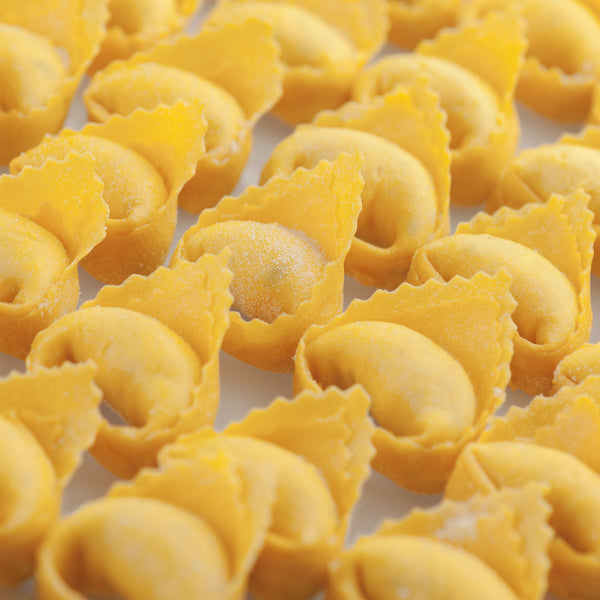 Les tortellonis sont a plat typique de la cuisine bolognaise. Ils sont traditionnellement préparés avec du beurre et de la sauge, ou avec du beurre et de la sauce tomate.
Ingrédients: pâtes à l'œuf (flours de blé tendre type 00, œufs pasteurisés, semoule de blé dur, sel). Farce: ricotta (lait de vache, sérum de lait, sel), grana padano (lait, sel, présure, conservateur lysozyme), mascarpone (crème fraîche, lait, acid lactique), persil, sel. Arômes. Powdering: flour de riz. Allergènes: anhydride sulfureux, arachides, crustacés, fruits à coque, gluten, lait et dérivés, poisson, céleri, sésame, moutarde, soja, œufs.
General informations
Country of origin: Italy
Region of production: Emilia Romagna
ingredients: egg pasta (type "00" soft wheat flour, pasteurized eggs, durum wheat semolina, salt). Filling: ricotta (cow's milk, whey, salt), grana padano (milk, salt, rennet, lysozyme preservative), mascarpone (cream, milk, lactic acid), parsley, salt. Aromas. Dusting: rice flour.
Allergens: sulfur dioxide, peanuts, crustaceans, nuts, gluten, milk and derivatives, fish, celery, sesame, mustard, soy, sulphites, eggs.
Pack of: 500g
Producer: Essepi

It matches with