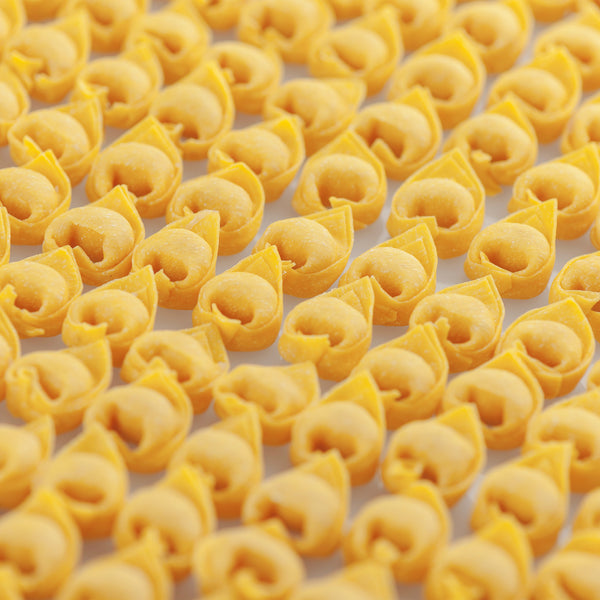 Les tortellinis sont le symbole de la ville de Bologne. La légende raconte qu'ils sont nés chez un restaurateur qui voulait reproduire le nombril de Vénus. Ils sont servis en entrée au Réveillon de Noël et, selon la tradition, ils sont cuits et mangés rigoureusement in a bouillon de chaperon ou de poule. Ils peuvent être également dégustés avec la crème fraîche, assaisonnés avec un ragout ou dans une timbale au four.
Ingrédients: pâtes à l'œuf (flours de blé tendre type 00, œufs pasteurisés, semoule de blé dur, sel). Farce: viande de porc, Grana Padano (lait, sel, présure, conservateur lysozyme), Parmigiano Reggiano (lait de vache, sel), mortadelle (viande de porc, sel, protéines du lait, arômes, épices, antioxydant: acid ascorbique, conservateur: nitrite de sodium), jambon cru (viande de porc, sel, conservateur: nitrate de potassium) chapelure (flours de blé tendre, eau, levure de bière), sel, noix de muscade, poivre blanc. Allergènes: anhydride sulfureux, arachides, crustacés, fruits à coque, gluten, lait et dérivés, poisson, céleri, sésame, moutarde, soja, œufs.
General informations
Country of origin: Italy
Region of production: Emilia Romagna
ingredients: egg pasta (type "00" soft wheat flour, pasteurized eggs, durum wheat semolina, salt). Filling: pork, Grana Padano (milk, salt, rennet, lysozyme preservative), Parmigiano Reggiano (cow's milk, salt) mortadella (pork, salt, milk proteins, flavorings, spices, antioxidant: ascorbic acid, preservative : sodium nitrite), raw ham (pork, salt, preservative: potassium nitrate) breadcrumbs (soft wheat flour, water, brewer's yeast), salt, nutmeg, white pepper.
Allergens: sulfur dioxide, peanuts, crustaceans, nuts, gluten, milk and derivatives, fish, celery, sesame, mustard, soy, eggs.
Pack of: 1kg
Producer: Essepi

It matches with
Excellent accompanied with a Sangiovese di Romagna; pour the version au ragout, nous suggérons a Lambrusco.