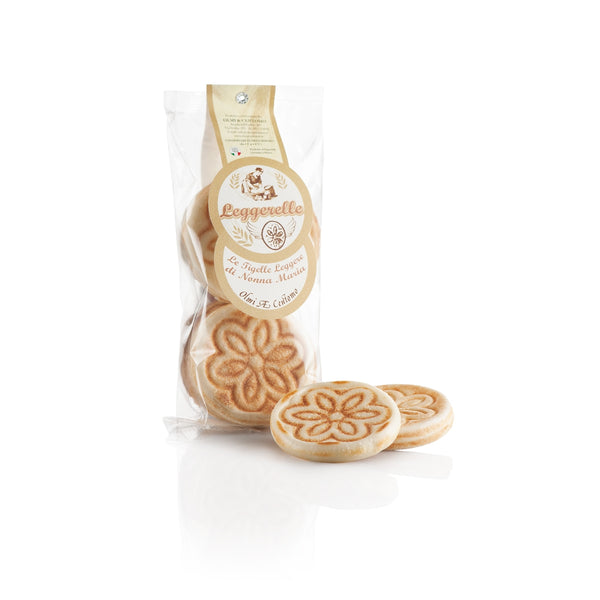 The "Tigella" is a typical product of the region émilienne, dont le nom vient des ustensiles utilisées pour sa cuisson: des disques de terre cuite que l'on appelait, justement, "tigelle". Elles étaient souvent décorées et one des symboles les plus récurrents était la fleur de la vie, qui autrefois était a signe de prospérité et de fertité.
Ingrédients: flours de blé tendre 00, lait, saindoux, levure naturelle, sel, eau, agents de lévitation: carbonate acid de sodium, bisulfate disodique, amidon de maïs traité monopotassique. Allergènes: lait et farine de blé.
General informations
Country of origin: Italy
Region of production: Emilia Romagna
ingredients: 00 soft wheat flour, milk, lard, natural yeast, salt, water, raising agents: sodium hydrogen carbonate, disodium bisulfate, monopotassium treated corn starch.
Allergens: milk and wheat flour.
Pack of: pack x8
Producer: The Hut

It matches with
Il s'agit d'un délicieux hors-d'œuvres mais aussi un plat unique, qui se marie avec des fromages à pâtes molles ou tendres (like squacquerone, stracchino and caciotta), des fromages affinés, des charcuteries, des pestos, et des légumes sous-huile ou sous-vinaigre; peut être mangée, in the sucrée version, avec des confitures, du nutella, des figues caramélisées. Elles sot habituellement servies avec les «crescentine».