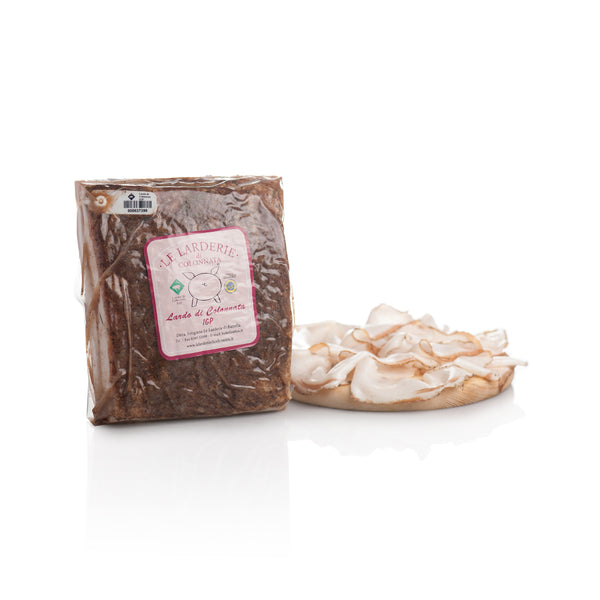 Traditionnellement nor as "the food de l'ouvrier", étant donné la faible qualité de la coupe et sa forte teneur en calories, the lard de Colonnata PGI est aujourd'hui considered comme a produit de l'excellence gastronomique. Product based on graisse de dos de porc, salé avec des épices et des herbes aromatiques. Soumis à un affinage dans des coffres en marbre, de sorte à accentuer la saveur et préserver sa légèreté.
Ingrédients: lard de cochon, sel marin naturel, poivre noir, ail, romarin frais, mix d'épices et d'herbes aromatiques.
General informations
Country of origin: Italy
Region of production: Toscana
ingredients: pork lard, natural sea salt, black pepper, garlic, fresh rosemary, mixture of spices and aromatic herbs.
Allergens: -
Pack of: 300 / 600g
Producer: The larderies srl

It matches with
Son utilization idéale est au naturel, afin d'exalter au mieux sa qualité et sa saveur, coupé en fines tranches sur une tranche de pain de Campagna. Se marie marvelously aux miels et fruits secs, grâce à sa salinité et au parfum du romarin. Excellent comme élément gras pour enrichir des soupes à base de légumineuses et viandes de gibier, pour donner de la souplesse à vos grillades et du goût a vos risottos. Moins fréquente mais tout aussi surprenante, the assortment avec les crustacés ou les poissons à viande tendre comme la raie ou le bar