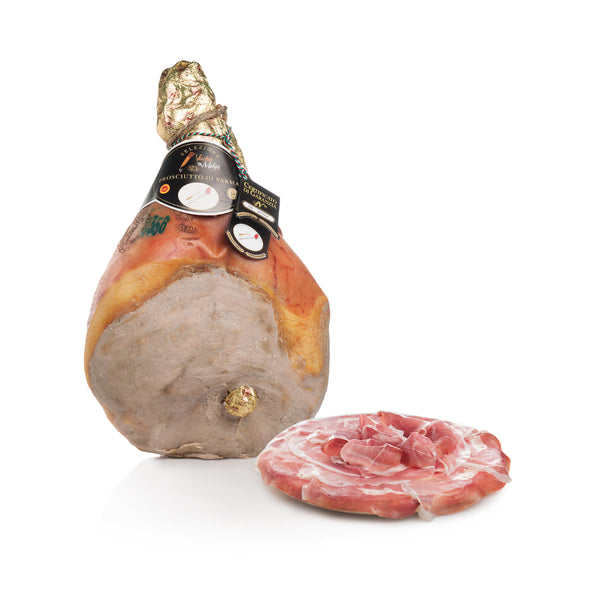 Produit typique de la région de Parme, the se distinguishes par sa forms ronde et lisse, et par sa couronne à cinq pointes, le célèbre sceau laissé uniquement sur l'original PDO. Sans additifs et conservateurs: son seul conservateur est le plus naturel qui soit: le sel. Et pourtant, son goût est doux et raffiné, relevé sans être salé.
Ingrédients: cuisse de porc, sel.
General informations
Country of origin: Italy
Region of production: Emilia Romagna
ingredients: pork leg, salt.
Allergens: -
Pack of: 10 / 10,50kg
Producer: Ghirardi Onesto ham factory

It matches with
Assortiments: pour en apprécier pleinement la saveur et les parfums, il faut le déguster seul, tout au plus avec une tranche de pain de Campagna ou sur une piadina. The accompagne à ravir les fromages crémeux et moelleux, tels que le gorgonzola ou le squacquerone. Très savoureux en accompagnement de fruits, le plus célèbre restant le melon, mais également avec des figues et des fruits exotiques. Très appréciable with a vin blanc aromatisé et légèrement pétillant, like a Sauvignon DOC or a rouge moyennement charpenté, like a Gioia del Colle DOC.