Coppa di Parma IGP - slice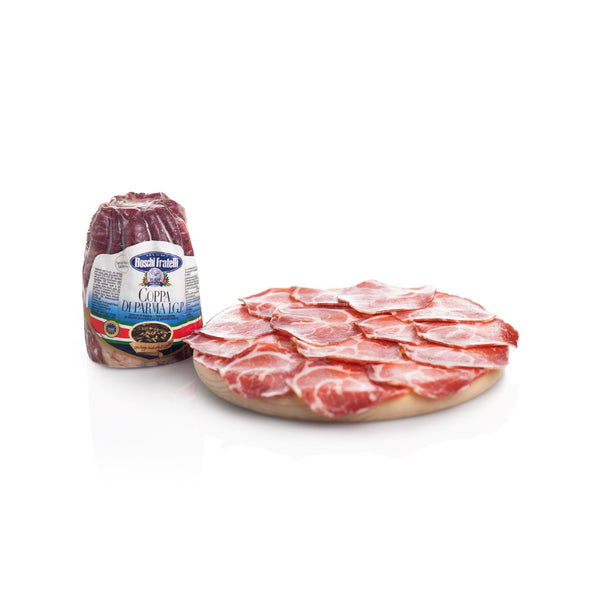 Produit historique, elle doit une grande partie de ses caractéristiques au territoire sur lequel elle est produite. The mix of arômes et d'épices women à la Coppa de Parme un parfum et une saveur uniques, délicats et raffinés.
Ingrédients: viandes de porc, sel, dextrose, arômes naturels et épices; antioxidants: E301; conservateurs: E252, E250. Allergènes: ne contient pas d'allergènes.
General informations
Country of origin: Italy
Region of production: Emilia Romagna
ingredients: pork, salt, dextrose, natural flavorings and spices; antioxidant: E301; preservatives: E252, E250.
Allergens: does not contain allergens
Pack of: 600g / 1kg
Producer: Boschi Fratelli cured meats

It matches with
Assortiments: elle est traditionnellement dégustée comme hors-d'œuvre ou en apéritif, sur un quignon de pain de Campagna, avec des grissinis, des tartes salées et des sandwiches. Excellent avec des légumes à feuille verte qui en exaltent la saveur, ou en crèmes et soupes à base de légumineuses. The assortment à des fromages as the gorgonzola ravira tous les palais.