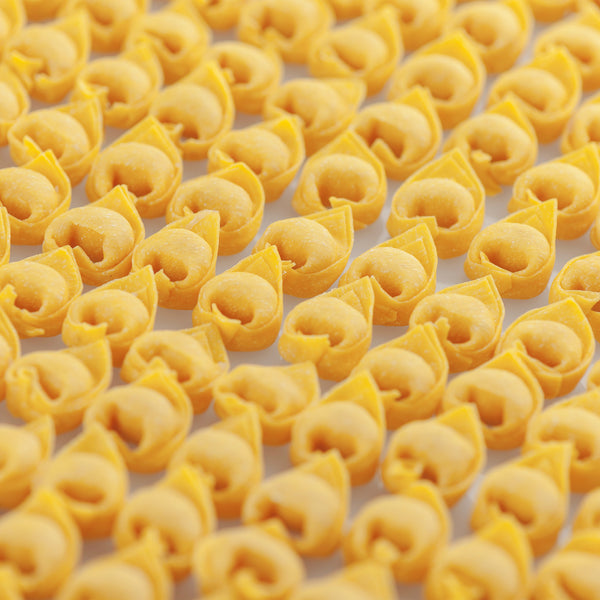 The tortellini are the symbol of the city of Bolonia. Cuenta la leyenda que los elaboró ​​por primera vez un mesonero que pretendía reproducir el ombligo de Venus. Son el primer plato typico de la comida de Navidad y, según la tradición, deben hervirse y comerse estrictamente con Caldo de capón or de gallina. En realidad también se pueden degustar con nata, acompañados de ragú or en un timbal al horno.
Ingredients: pasta de huevo (harina de trigo blando type "00", huevos pasteurizados, sémola de trigo hard, sal). Relleno: carne de cerdo, Grana Padano (leche, sal, cuajo, lysozyme preservative), Parmigiano Reggiano (leche de vaca, sal) mortadela (carne de cerdo, sal, proteínas de la leche, aromas, especias, antioxidante: ácido ascórbico, preservative: nitrite de sodium), raw jamón (carne de cerdo, salt, preservative: nitrato de potasio) pan rallado (harina de trigo blando, agua, levadura de cerveza), sal, nuez moscada, pimienta blanca. Alérgenos: sulfuric anhídrido, cacahuetes, crustáceos, frutos secos, gluten, leche y derivados, pescado, apio, sésamo, mostaza, soja, huevo.
General informations
Country of origin: Italy
Region of production: Emilia Romagna
ingredients: egg pasta (type "00" soft wheat flour, pasteurized eggs, durum wheat semolina, salt). Filling: pork, Grana Padano (milk, salt, rennet, lysozyme preservative), Parmigiano Reggiano (cow's milk, salt) mortadella (pork, salt, milk proteins, flavorings, spices, antioxidant: ascorbic acid, preservative : sodium nitrite), raw ham (pork, salt, preservative: potassium nitrate) breadcrumbs (soft wheat flour, water, brewer's yeast), salt, nutmeg, white pepper.
Allergens: sulfur dioxide, peanuts, crustaceans, nuts, gluten, milk and derivatives, fish, celery, sesame, mustard, soy, eggs.
Pack of: 1kg
Producer: Essepi

It matches with
Excelentes maridados with a Sangiovese di Romagna; acompañados with ragú if I recomienda a Lambrusco.