The link with the territory to reap the best fruits (1969-1999)

La Vecchia Malga was founded in 1969 by Rino Chiari and his wife Mara. The commercial activity is based on the importation of very fresh products, coming from the typical production areas, to be distributed to the best retail shops in Bologna. In that period, the direct knowledge of local companies allowed the Chiari family to create a network of trusted suppliers and to be able to count on the distribution of high quality food. Thanks to this, the market expands, first to Modena and soon to the national level.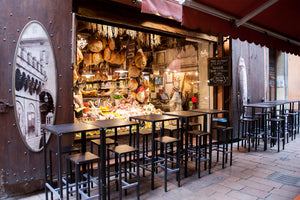 The shops of the Vecchia Malga: scenography of taste (2000-2016)

On the strength of this experience, the Chiari family understands that a good product can be tasted not only by eating it, but first by "tasting it" with your eyes. Tey therefore decide to offer their customers a place where they can find the food and wine excellences of the Bel Paese. The shops and tasting points are born, designed to enhance the typicality of the products through a scenography with an ancient taste, inspired by the shops under the Asinelli tower.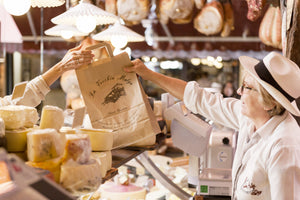 The good of Italy, chosen for you (2017)
The ambition of the Vecchia Malga is to offer all the goodness of the Italian land: from cheeses to cured meats, from preserves to wine. For those who love good food and eat well, for those who particularly appreciate the flavors of Emilia and Romagna cuisine, then the Vecchia Malga will become an essential point of reference. The invitation for customers is to organize a visit in person, to truly appreciate the products selected by Vecchia Malga and breathe the particular atmosphere of the tasting points that directly recall the world of ancient Bologna, the city of towers in constant competition to the sky, of the wooden arcades, of the red bricks, of the pleasure of the table that has always stimulated the patient work of seasoning to obtain tasty and refined foods, occasions of genuine satisfaction for all the senses