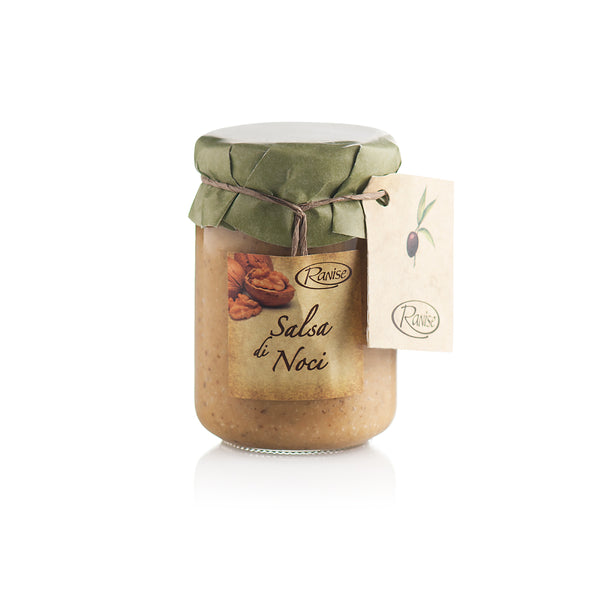 A further typical Ligurian Product, a creamy Soße with charakteristischem Nussduft.
Zutaten: Nüsse (40%), Olivenöl extra virgin (30%), Cashewkerne, Käse in Pulverform (Käse (Milch, Salz, Lab), Milchserum in Pulverform, Salz, Schmelzsalz: Natriumphosphat), Grana Padano DOP (Milch, Salz, Lab, Lisozym: Protein aus Ei), Milchserum, Salz; Säurekorrektor: Zitronensäure. Kann Spuren von anderen Schalenfrüchten enthalten.
General informations
Country of origin: Italy
Region of production: Liguria
ingredients: walnuts (40%), extra virgin olive oil (30%), cashews, powdered cheese (cheese (milk, salt, rennet), whey powder, salt, melting salt: sodium phosphate), Grana Padano DOP (milk, salt, rennet, lysozyme: egg protein), whey, salt; acidity regulator: citric acid. It may contain traces of other nuts.
Allergens: -
Pack of: 130g
Producer: Ranise

It matches with
Perfect zum Anmachen von klassischen ligurischen Pansotti oder Tagliatelle.