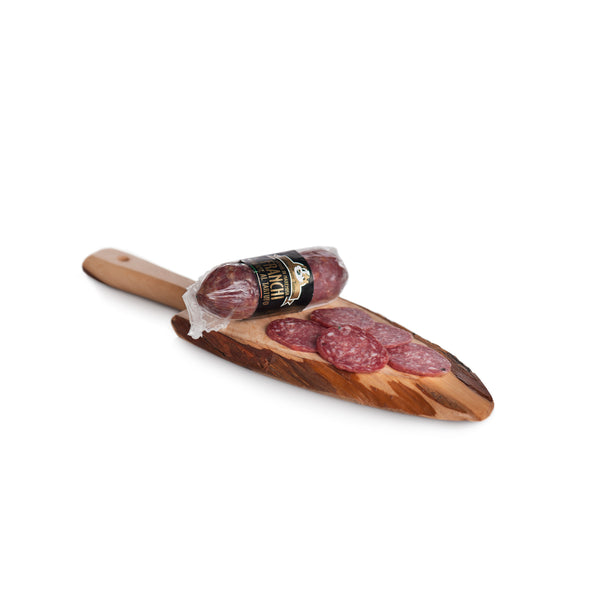 Zum richtigen Zeitpunkt aufgeschnitten und verzehrt, setzt die Salami al Tartufo das Aroma von magerem Fleisch von ausgewachsenen Schweinen frei, unterstrichen durch die richtige Menge Trüffel. Abgefüllt in Naturdarm und in speziellen Kellern zwei Monate gereift.
Zutaten: Schweinefleisch, Salz, Dextrose, Saccharose, Pfeffer, Sommertrüffel in Schuppen (tuber aestivum 0,2%), Aroma, EVO-Öl aus der EU; Antioxidantien: E 300, E 301; Konservierungsstoffe: E 252, E 250. Darm nicht essbar. Allergen: ohne Gluten und Laktose.
General informations
Country of origin: Italy
Region of production: Toscana
ingredients: pork, salt, dextrose, sucrose, pepper, summer truffle flakes (tuber aestivum 0.2%), flavoring, EVO oil of Community origin; antioxidants: E 300, E 301; preservatives: E 252, E 250. Inedible casing.
Allergens: gluten and lactose free
Pack of: 200 / 300g
Producer: Franks Salumi

It matches with