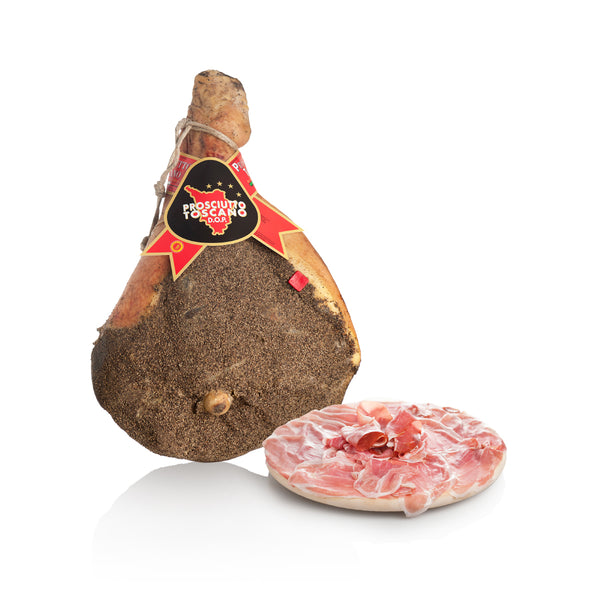 Der toskanische Schinken beruht auf den local Traditionen und für die DOP-Zertifizierung müssen präzise Regeln befolgt werden. ER zeichnet sich durch seine Bogenform sowie durch die dunkle Krste aus, die auf einer Schicht aus schwarzem Pfeffer beruht.
Zutaten: Schweineschenkel, Salz, Pfeffer, Naturaromen.
General informations
Country of origin: Italy
Region of production: Toscana
ingredients: pork leg, salt, pepper, natural flavorings.
Allergens: -
Pack of: 9,5 / 10,50kg
Producer: Valtiberino ham factory

It matches with
Kombinationen: köstlich auf einer Scheibe Bauernbrot, damit alle Eigenschaften zur Geltung kommen. Geeignet als Antipasto, in Kombination mit cremigem Weichkäse oder auch mit Pecorino Toscano Dop. Optimal auch zu Gemüse. Gut geeignet zur nicht zu schweren Rotweisen wie einem jungen Chianti oder einem Rosso di Montalcino, oder auch zu einem Weißwein wie dem Vernaccia di San Gimignano.