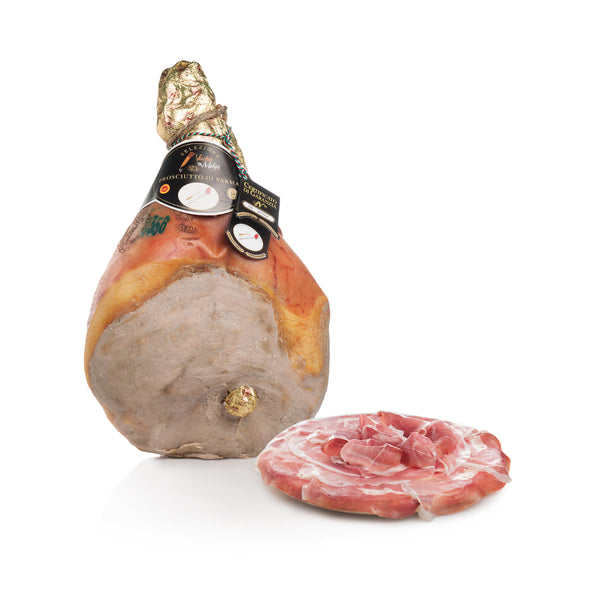 Das typische Produkt aus Parma, gekennzeichnet durch seine rundliche und glatte Form sowie die "Krone" mit 5 Zacken, die Marke, die nur in das Original PDO eingebrannt wird. Enthält keine Zusatz- und Konservierungsstoffe; der einzige Konservierungsstoff ist der natürlichste: das Salz. Und dennoch hat er einen köstlichen und feinen Geschmack, kräftig, jedoch nicht salzig.
Zutaten: Schweineschenkel, Salz.
General informations
Country of origin: Italy
Region of production: Emilia Romagna
ingredients: pork leg, salt.
Allergens: -
Pack of: 10 / 10,50kg
Producer: Ghirardi Onesto ham factory

It matches with
Kombinationen: am besten als solcher, damit Geschmack und Duft voll zur Geltung kommen, oder auf einer Scheibe Bauernbrot oder auf einer Piadina. perfekt auch zu cremigem Weichkäse wie Gorgonzola und Squacquerone. Sehr gut auch zu Obst: der Klassiker, auf Honigmelone, jedoch auch auf Feigen und exotischen Früchten. Ideal zu einem aromatischen Weißwein wie dem Sauvignon DOC oder zu einem leichten Rotwein wie einem Gioia del Colle DOC.