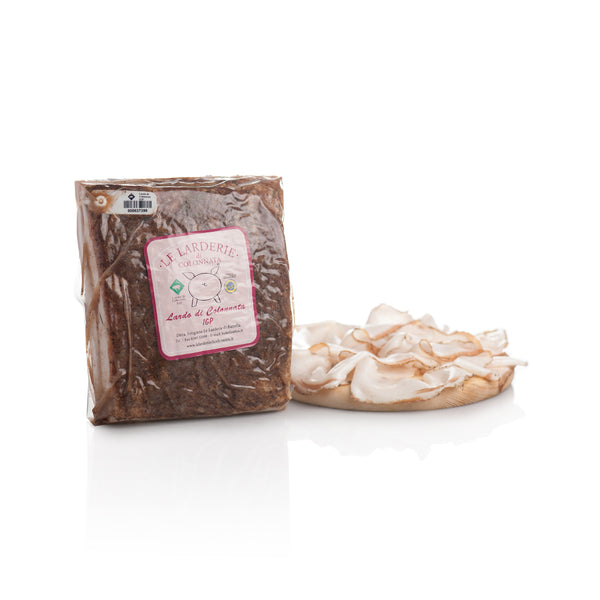 Traditionell ein "Essen der Arbeiter" aufgrund des groben Schnitts und des hohen Kaloriengehalts; heute hingegen wird the Lardo di Colonnata PGI as an Erzeugnis der guten Küche angesehen. Hergestellt aus Rückenfett vom Schwein, gesalzen mit Gewürzen und aromaticschen Kräutern. Gereift im Inneren von Marmormulden, um den Geschmack hervorzuheben und die Weichheit zu erhalten.
Zutaten: Schweinespeck, natürliches Meersalz, schwarzer Pfeffer, Knoblauch, frisches Rosmarin, Mischung aus Gewürzen und aromaticschen Kräutern.
General informations
Country of origin: Italy
Region of production: Toscana
ingredients: pork lard, natural sea salt, black pepper, garlic, fresh rosemary, mixture of spices and aromatic herbs.
Allergens: -
Pack of: 300 / 600g
Producer: The larderies srl

It matches with
Ideal dünn geschnitten auf Brot, damit der Geschmack voll zur Geltung kommt. Dank des Salzgehalts und des Rosmarins perfekt geeignet zu Honig und Dörrobst. Optimal als slices Zutat zu Suppen auf Grundlage von Hülsenfrüchten und Wildbret, zu Braten, zu Fleischsoßen und auch zu Risotto. Ungewöhnlicher, jedoch hervorragend, ist die Kombination mit Krustentieren oder Fisch mit weichem Fleisch wie Seeteufel oder Seebarsch