The Traditional Discovery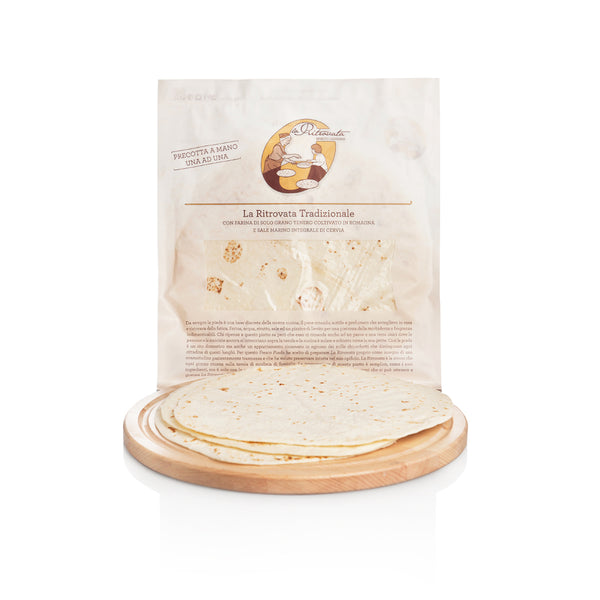 A traditional Piadina Romagnola, hergestellt unter Verwendung von Zutaten erster Qualität. Die einzelnen Piadine werden wie damals einzeln auf der Platte gebacken.
Zutaten: Weichweizenmehl Typ '00', angebaut in der Romagna (59,00%), Wasser, reiner Schweine- Lard, Cervia-Meersalz (1,47%), Treibmittel (Dinatriumdiphosphat, Natriumcarbonat, Maisstärke).
General informations
Country of origin: Italy
Region of production: Emilia Romagna
ingredients: type '00' soft wheat flour grown in Romagna (59,00%), water, pure pork lard, Cervia sea salt (1,47%), leavening agent (disodium diphosphate, sodium hydrogen carbonate, starch corn).
Allergens: gluten
Pack of: 360g
Producer: Fresh Piada

It matches with
Kann anstelle von Brot gegessen werden; wird jedoch normalerweise aufgeklappt und mit Weichkäse (Squacquerone, Stracchino or Gorgonzola), reifem Käse, Wurst (roher Schinken, gekochter Schinken, Coppa, Mortadella, Salami,…), Gemüse gefüllt. Jedoch auch Süßspeisen mit Mascarpone, Nutella, Marmelade, karamellisierte Feigen und trockene Früchte. Auf in Scheiben geschnitten als Antipasti oder Snacks.