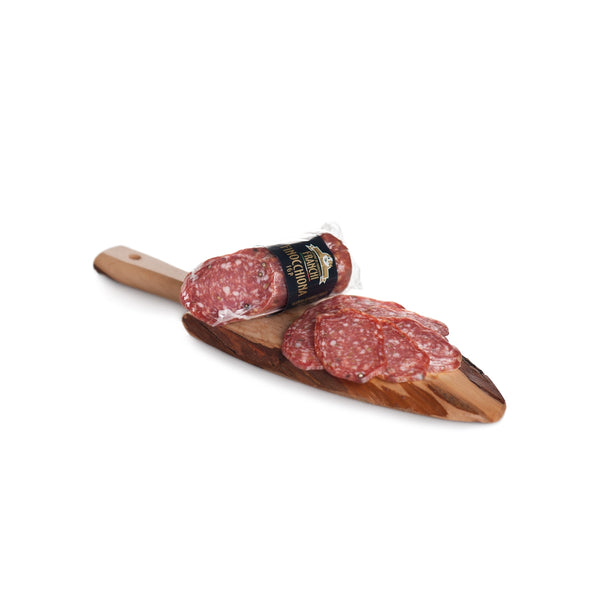 Wurst aus der Toskana mit PGI-Kennzeichnung, erzeugt aus ausgewähltem Schweinefleisch, von Hand in Naturdarm abgefüllt. Was die jedoch Finocchiona besonders macht und ihr einen unverwechselbaren Duft und Geschmack verleiht, ist der wilde Fenchel, der während der Verarbeitung mit dem Fleisch vermischt wird.
Zutaten: Schweinefleisch, Salz, Dextrose, Saccharose, Fenchelsamen 0,4%, Wein, gemahlener Pfeffer, Pfefferkörner, Knoblauch, Antioxidantien: E300, E301; Konservierungsstoffe: E 252, E 250. Darm nicht essbar. Allergen: ohne Gluten und Laktose.
General informations
Country of origin: Italy
Region of production: Toscana
ingredients: pork, salt, dextrose, sucrose, fennel seeds 0,4%, wine, ground pepper, peppercorns, garlic; antioxidants: E 300, E301; preservatives: E 252, E 250. Inedible casing.
Allergens: gluten and lactose free
Pack of: 3 / 3,30kg
Producer: Franks Salumi

It matches with