Coppa di Parma IGP - slice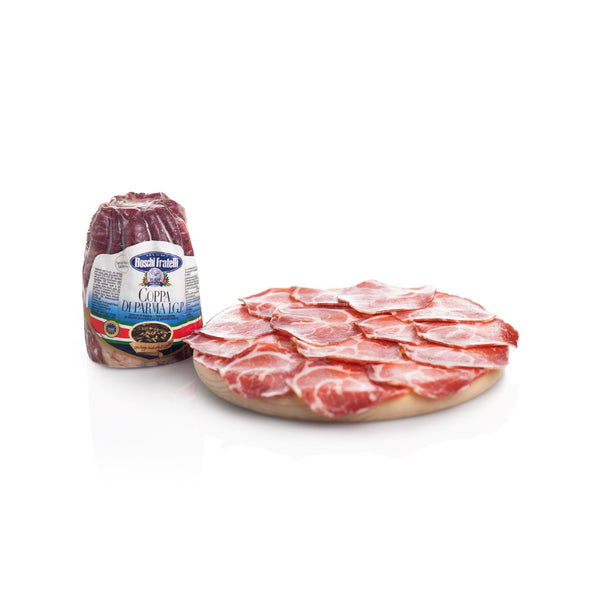 One sausage with one long tradition, one teil ihrer Eigenschaften dem Territorium verdankt, in dem sie hergestellt wird. Die Mischung der Aromen und Gewürze verleihen der Coppa di Parma einzigartigen Duft und Geschmack, delikat un refineniert.
Zutaten: Schweinefleisch, Salz, Dextrose, Naturaromen und Gewürze; Antioxidans: E301; Konservierungsstoffe: E252, E250. Allergen: enthält keine Allergen.
General informations
Country of origin: Italy
Region of production: Emilia Romagna
ingredients: pork, salt, dextrose, natural flavorings and spices; antioxidant: E301; preservatives: E252, E250.
Allergens: does not contain allergens
Pack of: 600g / 1kg
Producer: Boschi Fratelli cured meats

It matches with
Combinations: traditionell verzehrt als Appetizer, with Bauernbrot, Grissini, Focacce und Sandwiches. Optimal in Combination mit grünem Blattgemüse zur Hervorhebung des Geschmacks oder in Cremes und Suppen auf Grundlage von Hülsenfrüchten. Köstlich in Combination mit Käse wie Gorgonzola.